SiPD is the leading full service agency, construction & development,management and investment business specialising in residentialand hospitality real estate in Slovenia. A truly international teamserving local and foreign clients since 1999.
Slovenia is one of the last hidden gems in Europe with a fast-growing tourist industry. Uniquely geographically to provide access to mountains, lakes, the seaside, amazing wine areas, beautiful small cities within hours. Nestled between Italy, Hungary, Croatia and Austria, very well positioned to acess easily or travel further. inthe region.
A wonderful advantage of this small country is the diversity of it. You can be at the seaside in the morning and the mountains in the afternoon! Piran a wonderful Venetian town with good restaurants, Portorož with sandy beaches are worth a visit. The coast is ideal for cycling, running, sailing and sea kayaking. On the wonderful hills surrounding the coast are many vineyards with some lovely white wines to be tasted.
Almost everywhere in Slovenia you can find tasty and varied dishes, and Slovenian wines can enthuse even the most demanding wine connoisseur. The Slovenian cuisine is not uniform, but diverse and influenced by the diversity of Slovenian landscape, climate, history and neighbouring cultures. Dishes such as štruklji, potica, gibanica are amongst a few of the tasty traditional foods.
There are several dozen of fully maintained ski centres within the Alps of Slovenia.
Largest resorts are Vogel, Kranjska Gora, Krvavec, Rogla, Cerkno, Mariborsko Pohorje and many smaller ones to be found in the unique villages. Many of the resorts have snow making facilities. Cross country trails can also be found in most of the ski areas. Ski resorts in Slovenia are an ideal place to teach children this wonderful sport!
Slovenia has a vast variety of excellent outdoor activities for all age groups. Golf courses surrounded by natural beauty. Fishing in the clear rivers. Hiking at all levels, kayaking, white water rafting, canyoning, para gliding, horse riding, cycling, mountain biking, climbing, high wire courses, bob sledding, skiing, cross country, sledging, tour skiing, snow shoeing and just simply walking through the fields of wild flowers.
Wonderful Unspolit Nature
More than half of Slovenia is covered with forest, her forests include virgin forests. It has one national park called Triglav named after Slovenia's highest mountain. Within the park is Lake Bohinj, the country's biggest glacial lake. Slovenia's nature offers a lot to be seen, from wonderful gorges , picturesque river valleys, high mountains to Pannonian flatlands. Within this unspoilt nature the wildlife and wild flowers is plentiful.
Wellness is a feeling of an inner balance, healthy body, soul and lifestyle. This gives us energy for love, happiness and good health. With natural beauty and clean air Slovenia is the perfect place to find yourself! In Slovenia, wellness centres form part of the natural health resorts, thermal spas and numerous hotels. They can be found in the countryside, mountains or at the coast.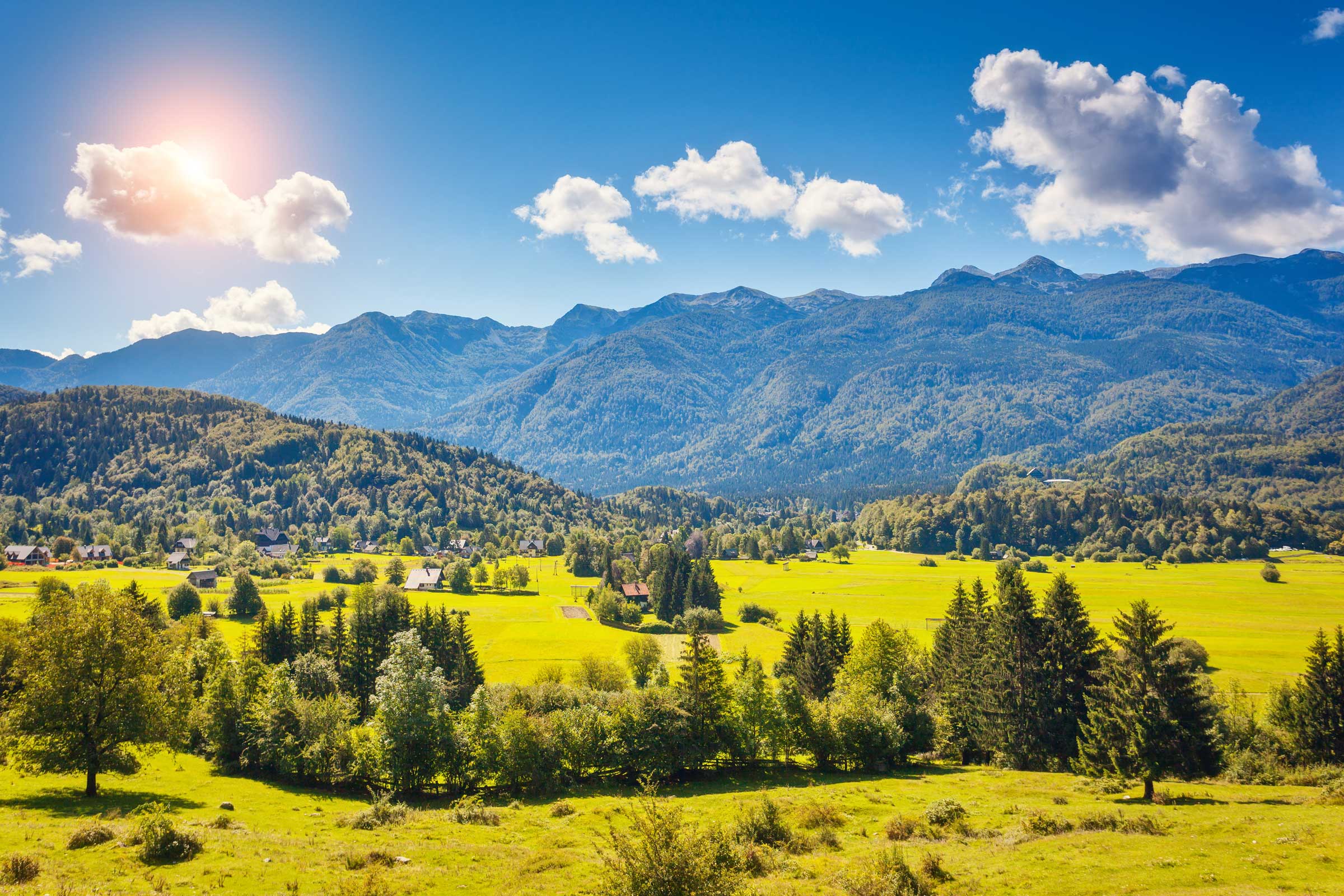 To learn more why to buy, build or invest in Slovenia,
please contact us!